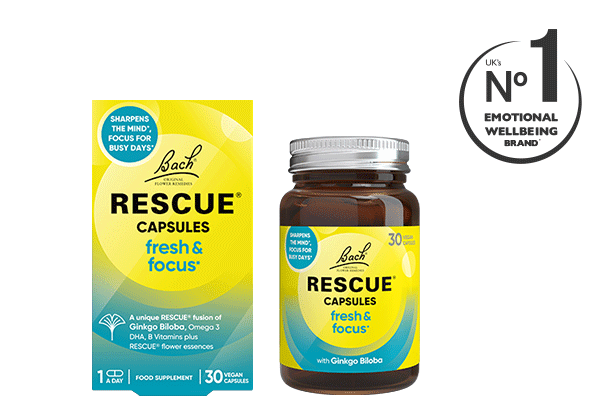 RESCUE® Fresh and Focus Capsules
Busy days are great days when your mind stays clear and sharp. New Bach RESCUE® Fresh & Focus Capsules are designed as a unique way to support mental clarity and keep focus during busy and demanding days. They are an active fusion of natural plant-based botanical Ginkgo Biloba, vegan Omega 3 DHA and B Vitamins plus Bach RESCUE® flower essences which:
Support focus and concentration
Help maintain mental clarity
Maintain and support long term memory
Ginkgo Biloba

Vegan Omega 3 DHA
B Vitamins & Folic Acid
Vegan
Discover Bach Rescue® Fresh & Focus Capsules
Oil from the microalgae Schizochytrium sp (docosahexaenoic acid), capsule shell (hydroxypropyl methyl cellulose, carrageenan, potassium acetate), bulking agents (calcium carbonate, microcrystalline cellulose), Ginkgo biloba leaf extract, antioxidants (sodium ascorbate, ascorbyl palmitate, tocopherols), anti-caking agents (magnesium stearate, silicon dioxide), pantothenic acid (as calcium D-pantothenate, vitamin B5), vitamin B6 (as pyridoxine hydrochloride), folic acid, vitamin B12 (as cyanocobalamin), flower essences (Clematis vitalba, Helianthemum nummularium, Impatiens glandulifera, Ornithogalum umbellatum, Prunus cerasifera (RESCUE®)).
Ginkgo Biloba contributes to normal mental performance, cognitive function & helps to maintain memory as you age.
Vegan Omega 3 DHA supports normal brain function.
Vitamin B5 contributes to normal mental performance & the reduction of tiredness and fatigue.
B6, B12 & Folic acid contribute to normal psychological function.
RESCUE Flower Essences original blend, perfected to comfort & reassure.
Typical Values
Per capsule

% NRV

Vitamin B6

1.4mg
100%

Folic acid

200µg
100%

Vitamin B12

Pantothenic acid (Vitamin B5)

Omega 3 as Algal DHA

5µg

6mg

40mg

200%

100%

-

Gingko biloba extract

Equivalent to Gingko biloba leaf*

30mg

1500mg

-

-
*Extraction solvent Ethanol and Water
NRV = Nutrient Reference Value
The beneficial effect for brain function is obtained with a daily intake of 250mg of DHA
Directions for use:
Adults and children over 12 years, simply take one capsule daily to help support focus and long term memory.
Warnings and Restrictions
For adults and children over 12 years
If you are taking any medication are pregnant or breastfeeding, please consult a qualified healthcare practitioner before use
Keep out of reach of children
Store below 25C
Food Supplements should not be used as a substitute for a balanced diet and healthy lifestyle
Ingredients

Oil from the microalgae Schizochytrium sp (docosahexaenoic acid), capsule shell (hydroxypropyl methyl cellulose, carrageenan, potassium acetate), bulking agents (calcium carbonate, microcrystalline cellulose), Ginkgo biloba leaf extract, antioxidants (sodium ascorbate, ascorbyl palmitate, tocopherols), anti-caking agents (magnesium stearate, silicon dioxide), pantothenic acid (as calcium D-pantothenate, vitamin B5), vitamin B6 (as pyridoxine hydrochloride), folic acid, vitamin B12 (as cyanocobalamin), flower essences (Clematis vitalba, Helianthemum nummularium, Impatiens glandulifera, Ornithogalum umbellatum, Prunus cerasifera (RESCUE®)).

Ginkgo Biloba contributes to normal mental performance, cognitive function & helps to maintain memory as you age.
Vegan Omega 3 DHA supports normal brain function.
Vitamin B5 contributes to normal mental performance & the reduction of tiredness and fatigue.
B6, B12 & Folic acid contribute to normal psychological function.
RESCUE Flower Essences original blend, perfected to comfort & reassure.

Nutritional Info

Typical Values
Per capsule

% NRV

Vitamin B6

1.4mg
100%

Folic acid

200µg
100%

Vitamin B12

Pantothenic acid (Vitamin B5)

Omega 3 as Algal DHA

5µg

6mg

40mg

200%

100%

-

Gingko biloba extract

Equivalent to Gingko biloba leaf*

30mg

1500mg

-

-

*Extraction solvent Ethanol and Water
NRV = Nutrient Reference Value
The beneficial effect for brain function is obtained with a daily intake of 250mg of DHA

Instructions

Directions for use:

Adults and children over 12 years, simply take one capsule daily to help support focus and long term memory.

Warnings and Restrictions

For adults and children over 12 years
If you are taking any medication are pregnant or breastfeeding, please consult a qualified healthcare practitioner before use
Keep out of reach of children
Store below 25C
Food Supplements should not be used as a substitute for a balanced diet and healthy lifestyle