RESCUE® Chewing Gum
Soothing and refreshing RESCUE® Spearmint Chewing Gum.
Vegan Formula

Travel Size

Alcohol Free
Sugar Free
British born brand
Take a moment to relax with refreshing, sugar free RESCUE® Chewing Gum
Improved long-lasting spearmint flavour.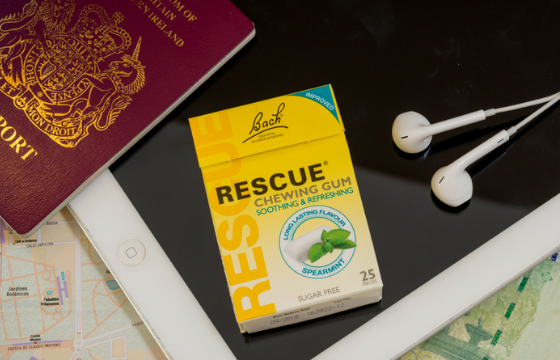 Soothing and refreshing
The solid centre contains four drops of RESCUE® flower essences, the famous combination of flower essences discovered by Dr Bach and used by millions around the world.
Without Alcohol
Easy to use
Sweeteners: xylitol, sorbitol, maltitol, maltitol syrup,
Gum base
Thickener: gum arabic
Natural flavouring (spearmint)
Colour: titanium dioxide, Humectant: glycerol,
Emilsifier: lecithin (from soya)
Glazing agent: carnauba wax
Flower Essences: Helianthemum nummularium, Clematis vitalba, Impatiens glandulifera, Prunus cerasifera, Ornithogalum umbellatum (RESCUE®)).
Always look for the unique Bach™ Original Flower Remedies signature, which only true Bach RESCUE® products carry. This ensures that your product has been prepared according to Bach's original methods.
If you have any concerns with anything that you may eat or drink during pregnancy, or if you are breastfeeding, it is always best to check with your doctor or pharmacist.
How to use
Enjoy one piece of chewing gum as required.
Storage
Do not store above 25°C.
Other Information
Excessive consumption may produce laxative effects.


Nutritional Information
| Typical values | per 100g | per piece |
| --- | --- | --- |
| Energy | 679kJ / 163kcal | 10kJ / 2kcal |
| Carbohydrate | 66g | 0.9g |
| of which sugars | 0g | 0g |
| of which polyols | 66g | 0.9g |
Contains negligible amounts of fat, saturates, protein and salt.
The RESCUE® Blog

Visit our blog for the latest tips, news and information relating to stress, sleep and being your best despite a hectic lifestyle.