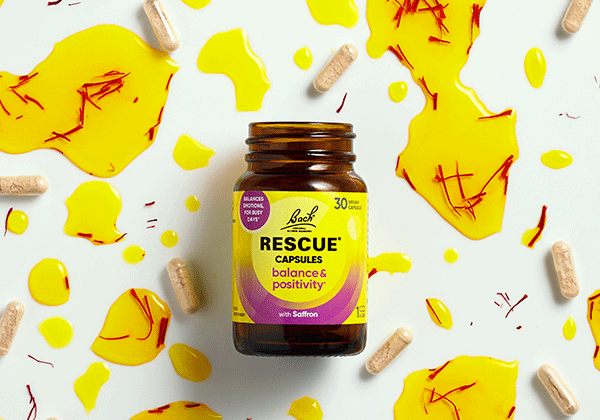 RESCUE® Balance and Positivity Capsules
Great days are helped by a positive mindset and keeping emotions on an even keel. New Bach RESCUE® Balance & Positivity Capsules are designed as a unique way to support positivity and help you stay balanced through busy days. They are a unique fusion of mood balancing Saffron, L-Theanine, B Vitamins plus RESCUE® flower essences which:
Helps maintain a positive outlook and contributes to normal healthy mood
Helps calm and balance emotions through busy days
Saffron
B Vitamins & Folic Acid
RESCUE Flower Essences
Vegan
Discover Bach Rescue® Balance & Positivity Capsules
Bulking agents (calcium carbonate, microcrystalline cellulose), capsule shell (hydroxypropyl methyl cellulose, carrageenan, potassium acetate), Crocus sativus (saffron) stigma extract, L-theanine, pantothenic acid (as calcium D-pantothenate, vitamin B5), anti-caking agents (magnesium stearate, silicon dioxide), vitamin B12 (as cyanocobalamin), flower essences (Clematis vitalba, Helianthemum nummularium, Impatiens glandulifera, Prunus cerasifera and Ornithogalum umbellatum (RESCUE®)).
Crocus Sativus (Saffron) is a botanical known to contribute to normal healthy emotional balance & mood, helping to maintain a positive outlook.
Pantothenic Acid (Vitamin B5) contributes to normal mental performance & Vitamin B12 contributes to normal psychological function.
RESCUE® Flower Essences original blend, perfected to comfort & reassure.
Typical Values
Per capsule

% NRV

Vitamin B12

2.5µg
100%

Pantothenic acid (Vitamin B5)

6mg
100%

Safr'InsideTM Saffron flower extract

Equivalent to saffron flower stigmas*

30mg

150mg

-

-

Pantothenic acid (Vitamin B5)

6mg

-

L-Theanine

25mg

-
*Extraction Solvent Water
NRV = Nutrient Reference Value
Directions for use:
Adults and children over 12 years, simply take one capsule daily to help you stay positive and balanced through busy days.
Warnings and Restrictions
For adults and children over 12 years
If you are taking any medication are pregnant or breastfeeding, please consult a qualified healthcare practitioner before use
Keep out of reach of children
Store below 25C
Food Supplements should not be used as a substitute for a balanced diet and healthy lifestyle
Ingredients

Bulking agents (calcium carbonate, microcrystalline cellulose), capsule shell (hydroxypropyl methyl cellulose, carrageenan, potassium acetate), Crocus sativus (saffron) stigma extract, L-theanine, pantothenic acid (as calcium D-pantothenate, vitamin B5), anti-caking agents (magnesium stearate, silicon dioxide), vitamin B12 (as cyanocobalamin), flower essences (Clematis vitalba, Helianthemum nummularium, Impatiens glandulifera, Prunus cerasifera and Ornithogalum umbellatum (RESCUE®)).

Crocus Sativus (Saffron) is a botanical known to contribute to normal healthy emotional balance & mood, helping to maintain a positive outlook.
Pantothenic Acid (Vitamin B5) contributes to normal mental performance & Vitamin B12 contributes to normal psychological function.
RESCUE® Flower Essences original blend, perfected to comfort & reassure.

Nutritional Info

Typical Values
Per capsule

% NRV

Vitamin B12

2.5µg
100%

Pantothenic acid (Vitamin B5)

6mg
100%

Safr'InsideTM Saffron flower extract

Equivalent to saffron flower stigmas*

30mg

150mg

-

-

Pantothenic acid (Vitamin B5)

6mg

-

L-Theanine

25mg

-

*Extraction Solvent Water
NRV = Nutrient Reference Value

Instructions

Directions for use:

Adults and children over 12 years, simply take one capsule daily to help you stay positive and balanced through busy days.

Warnings and Restrictions

For adults and children over 12 years
If you are taking any medication are pregnant or breastfeeding, please consult a qualified healthcare practitioner before use
Keep out of reach of children
Store below 25C
Food Supplements should not be used as a substitute for a balanced diet and healthy lifestyle