Sharpen your mind and memory, focus for when you need it most.
Discover New RESCUE® Fresh & Focus capsules, from the UK's no.1 emotional wellbeing brand* designed to help support mental clarity and keep you focused during demanding days so you can perform your best whatever the day holds.
If you're studying or revising for exams we've got you covered.
Big presentation at work and lots of pressure? Simply take one capsule daily.
Lacking motivation or drive? Support fresh focus for a productive day
Sharpen the mind & stay focused
RESCUE® Fresh & Focus Capsules are an active fusion of natural plant based botanical Ginkgo Biloba, vegan Omega 3 DHA and B Vitamins, plus the Bach RESCUE® Flower essences which:
Support focus & concentration
Help maintain mental clarity
Maintain & support long term memory
Discover RESCUE® Fresh & Focus Capsules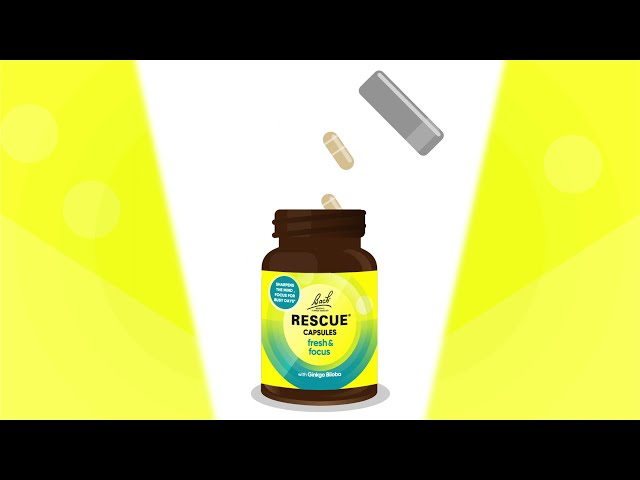 Discover the ingredient blends in NEW RESCUE® Fresh & Focus Capsules, and how you can incorporate them into your morning wellness routine.
Simply take one capsule daily to help keep focus during busy and demanding days.
Where to Buy
RESCUE
®
Fresh & Focus Capsules
The Story of RESCUE®
RESCUE® is the famous combination of Bach™ Original Flower Essences, discovered by Edward Bach in the 1930s - to support in times of emotional demand. To this day, the RESCUE® formula is still made using hand picked flowers which come from Dr Edward Bach's original gardens where he lived and worked in Oxfordshire.
Ginkgo biloba contributes to normal mental performance, cognitive function & helps maintain memory with age. DHA supports normal brain function (the beneficial effect for brain function is obtained with a daily intake of 250mg of DHA). Vitamin B5 contributes to normal mental performance & the reduction of tiredness and fatigue. Vitamins B6, B12 & Folic acid contribute to normal psychological function. FOOD SUPPLEMENTS SHOULD NOT BE USED AS A SUBSTITUTE FOR A BALANCED DIET AND HEALTHY LIFESTYLE. *IRI Value Sales 52 weeks to w/e 19th February 2022. verify@nelsons.net